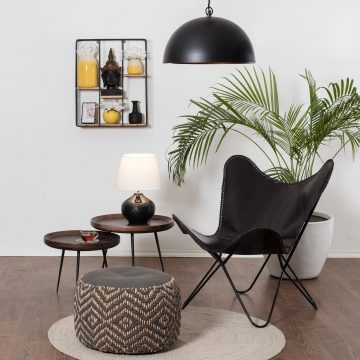 Butterfly chairs are hot and are a trend that we are currently seeing in many different interiors! The butterfly chair or ' butterfly chair ' is extremely popular due to its elegant appearance and is a classic design.
If you are planning to buy a butterfly chair but you don't exactly know what it is, which material it's made up of, where can you use it, or what precautions you need to take?
Don't worry, here's the exact information you need to know before buying a butterfly chair.
What exactly is a butterfly chair?
A butterfly chair is a chair-style that consists of a metal frame and a large, hanging from the frame, seat. Usually, the frame is black. The original design featured a leather seat, but today we also see many seats made of canvas or other materials.
Because of the graceful model, which is similar in appearance to a butterfly, and the light model, the butterfly chair is a real eye-catcher in your living room or bedroom.
Origin of Butterfly chairs
The butterfly chair has a history that goes back to the early nineteenth century. The original was designed and manufactured in Argentina in 1938 and manufactured in America in the 1940s by Artek-Pascoe, Inc., New York. The production process was slow due to the war and shortages of metal. But gradually popularity of butterfly chairs increased which in turn increased their demand.
So the manufacturers had to keep up with the pace. As a result number of butterfly chairs manufacturers rose exponentially.
More about butterfly chair?
Our butterfly chairs are made of genuine leather and will become more flexible with use. This ensures that it sits more comfortably every time. These chairs are multipurpose which will blend in all types of environments. Whether it is a hotel, home garden, cafe, or even around swimming pools. Butterfly chairs give a feeling of elegance to your space.
What is the difference with other butterfly chairs?
Unlike other replica butterfly chairs, we ensure that the quality and durability of our chairs are at par with our competitors. Each chair is handcrafted from pure 100% leather.
In addition, our cover has the same dimensions and design as the first original butterfly chair. Also, the butterfly is produced in the same way as the original.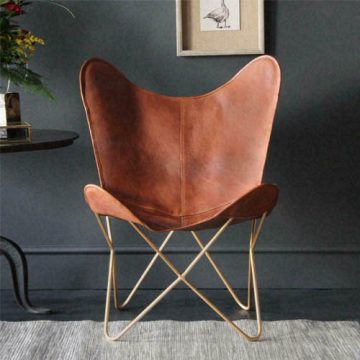 Has the leather been treated? Can it stand water?
All leather is treated and does not easily absorb water. If water or wine has leaked onto the leather, we recommend that you immediately use a cotton cloth and then let the leather dry in the sun for 2 hours or more.
Buy Butterfly chair
Are you convinced that you want a real design classic in your interior that is the center of attention? All you have to do now is choose a model and color that best suits your interior! Also, at our range for the different colors of butterfly chairs.