Poufs are back in style and are one of the most trending home accessories. Poufs are multi-functional accessories that can be used as a side table, an alternative to chairs around the coffee table, a great addition to kids' rooms or simply to put your feet up after a hard day.
Our poufs are made using genuine leather. The quality of our products is excellent. All our products are hand-made by experienced artisans without the use of harmful chemicals.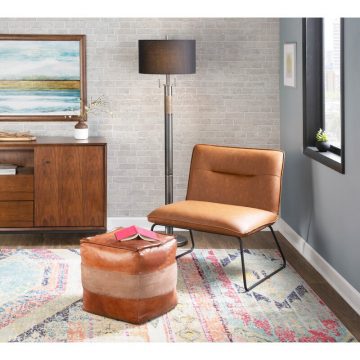 These Pouffes are multi-purpose and can be filled with a range of materials. To achieve a good solid filling you can recycle materials from around your home, old blankets, quilts, towels, and clothing. For a more lightweight beanbag type filling use polystyrene balls or foam chips.
If you are thinking of replacing your old sofa or chairs, then you should definitely consider our pouff bags. These bags serve the purpose of the container as
well as they look good when placed in living rooms, bedrooms, or even in gardens.
HOW TO REMOVE BAD SMELLS FROM YOUR BAG
Some bags just need a remodeling. In order to remove bad odor from the bag, you can take a wet, clean cloth to clean the inside, afterwards, you can repeat this with a dry cloth to remove any remaining dirt. Let the bag dry outside for a few hours, on a table and out of the sun or heat.
Another solution that seems to work for leather bags is using coal-based odor absorbers. These come in different sizes and shapes.
But there are still some of the things you need to take care of –
1. Long-term exposure of pouff bags to water can damage them.
2. Avoid products containing petroleum or mineral oil, as these can dry out the leather.
3. Continuous exposure to sunlight, dirt, and dust, poor storage, and overpacking can accelerate the wearing off of the bags.
Do you have still think some information is missing in this article? Please let us know. We look forward to your response (below) and share your thoughts with us.